Jurnal Transformative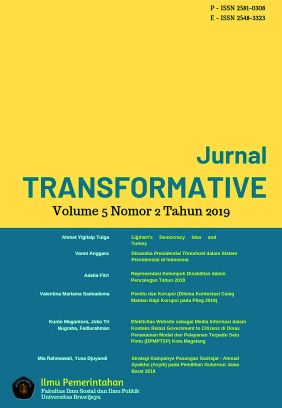 Jurnal Transformative is published by the Department of Government Science, the Faculty of Social and Political Science, Universitas Brawijaya. There are three main issues focused on Local Government, Government Innovation, and Government Institution. The purpose is to spread critical and original analysis from researchers and academic practitioners on various social, political and government issues both local and foreign. The writing is published after undergoing a peer-review process by providing an exclusive analysis on social, political and government issues from various perspectives. Jurnal Transformative provides high-quality studies outcomes and new thoughts for academic practitioners, researchers, and the public to break down the complexity and dynamics of contemporary socio-political changes. Published twice a year, in March and September. Jurnal Transformative has been accredited by Ministry of Research and Technology in SINTA 3, SK NOMOR 30/E/KPT/2019. Jurnal Transformative invites researcher, academician, practitioners, and publics to submit their critical writings and to contribute to the development of social and political sciences.
The journal registered in the CrossRef with Digital Object Identifier (DOI) prefix 10.21776
Collaboration with
Announcements
No announcements have been published.
Vol 7, No 1 (2021): Maret
Table of Contents
Articles
Kiki Apriliyanti, M. Daud Irsya Latif, Dyah Mutiarin
IJHN,
Vol 7, No 1 (2021)

, pp. 1-28
Abdul Aziz SR, Petir Pudjantoro, Rusdianto Rusdianto, Muhamad Yani
IJHN,
Vol 7, No 1 (2021)

, pp. 29-55
Ni Putu Mirna Sari, Bimo Dwi Nur Romadhon Sukadi, Putu Nomy Yasintha
IJHN,
Vol 7, No 1 (2021)

, pp. 56-80
Ghulam Maulana Ilman, Revienda Anita Fitrie
IJHN,
Vol 7, No 1 (2021)

, pp. 81-111
Komang Jaka Ferdian, Dodi Faedlulloh, Ibrahim Ibrahim
IJHN,
Vol 7, No 1 (2021)

, pp. 112-127
Fhikri Fhutera Yudan, Muhammad Arief Virgy
IJHN,
Vol 7, No 1 (2021)

, pp. 128-153
Front Matter
Front Matter
IJHN,
Vol 7, No 1 (2021)

, pp. i-iv
Back Matter
Back Matter
IJHN,
Vol 7, No 1 (2021)

, pp. 154-158